Biochemical evaluation of some locally prepared herbal remedies (Agbo) currently on high demand in Lagos metropolis, Nigeria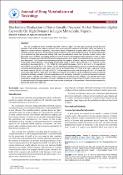 Publisher
Journal of Drug Metabolism and Toxicology
Abstract
The use of traditional herbal remedies popularly known as "agbo" over the years especially among the local populace in the South west, Nigeria has been seen as an alternative approach to orthodox health care delivery in Nigeria for various reasons. Apparently, daily health issues of Nigerians are partly taken care of by these herbal remedies and their use are on the increase in Lagos metropolis which raises safety concerns. The study was carried out to estimate the total antioxidant activity, total reducing antioxidant power, total phenolic content, tannin, total flavonoids and % DPPH+ scavenging activity of some of these locally prepared herbal samples on sale in Lagos Metropolis using standard methods. Physicochemical parameters such as pH, total dissolved solids and odour were also determined. The phytochemical screening revealed the presence of tannin, saponin, alkaloids and flavonoids in the herbal remedy samples. The samples showed wide range of values: Tannin (380.44 ± 15.1-1538.90 ± 43.53 mgGAE/ml), flavonoids (69.50 ± 11.00- 26382.98 ± 69 mgGAE/ml) phenols (30.23 ± 4.0-104.07 ± 8.3 mgGAE/ml) and %DPPH activity (24.82 ± 4.7%- 84.68 ± 12.3%). Physicochemical parameters analysis showed that the samples contained dissolved particles with "agbo atosi" having the highest value of 1149.20 ± 34 mg/L, "agbo jedi" having the lowest value of 205.33 ± 28 mg/L at 26.2°C. The samples were acidic with pH range of 5.39 – 6.75 while the odour associated with the "agbo atosi" was offensive in nature. This might not be unconnected with various unnatural ingredients probably contained in these preparations which are largely marketed by young and apparently ignorant female youths unfamiliar with traditional herbal formulations. Based on these findings, it is probable that these preparations though potential sources of natural antioxidants may be harmful to human health. There is also a need for standardization of dosage regimens and close scrutiny of pedigree of the peddlers of these herbal remedies by appropriate government agencies.
Keywords
Research Subject Categories::NATURAL SCIENCES::Chemistry::Biochemistry
,
agbo
,
phytochemicals
,
antioxidants
,
Total phenolic content
,
physicochemical
Citation
Akande, I. (2012). Biochemical Evaluation of Some Locally Prepared Herbal Remedies ( Agbo ) Currently On High Demand in Lagos Metropolis , Nigeria.
Collections