Predictors of tuberculosis knowledge, attitudes and practices in urban slums in Nigeria: a cross-sectional study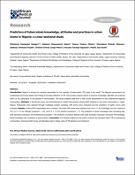 Publisher
African field epidemiology network
Abstract
Introduction: Nigeria is among six countries responsible for the majority of tuberculosis (TB) cases in the world. The Nigerian government has emphasized community-based case finding to increase detection of TB. This process requires efforts to improve knowledge, attitudes and practices (KAP) of TB, particularly in the poorest of communities. This study presents data from a KAP survey administered in two underserved Nigerian communities. Methods: a structured survey was administered by trained interviewers among adult residents in two slum communities in Lagos, Nigeria. Participants were selected through multistage random sampling. KAP scores were computed and the predictors of higher scores were assessed. Results: a total of 504 respondents were surveyed. The mean KAP scores were relatively low: 9.8 ± 7.1 for knowledge (out of a maximum 34), 5.3 ± 3.4 for attitude (maximum = 10), and 5.2 ± 1.5 for practice (maximum = 7). The predictors of good knowledge were increasing age, post secondary education and professional occupation. The predictors of positive attitude were post secondary education and good TB knowledge. Good knowledge was a predictor of good practice. Conclusion: our findings underscore the need to improve the education about TB in underserved communities. Improving KAP scores will ultimately lead to higher rates of TB detection and treatment.
Keywords
Cross-sectional study
,
Nigeria
,
Predictors of tb kap
,
Tuberculosis
,
Vulnerable communities
Citation
Balogun, M.R, Sekoni, A.O, Meloni, S.T, Odukoya, O.O, Onajole, A.T, Longe-Peters, O.A, Ogunsola, F.T. and Kanki, P.J. (2019). Predictors of tuberculosis knowledge, attitudes and practices in urban slums in Nigeria: a cross-sectional study. The Pan African Medical Journal, 32:60. doi:10.11604/pamj.2019.32.60.14622.