Volume regulatory hormones and plasma volume in pregnant women with sickle cell disorder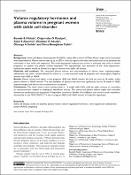 Publisher
J Renin Angiotensin Aldosterone Syst
Abstract
Sickle cell disease (haemoglobin SS (HbSS)) mainly affects those of West African origin and is associated with hypervolaemia. Plasma volume rises by up to 50% in normal pregnancy but was previously found to be paradoxically contracted in late sickle cell pregnancy. The renin-angiotensin-aldosterone system is activated very early in human pregnancy to support the plasma volume expansion. We hypothesised that activation of the renin-angiotensin-aldosterone system would be blunted in pregnant women with sickle cell disease.
Keywords
Sickle cell disease
,
plasma volume
,
Pregnancy
,
renin–angiotensin–aldosterone system (RAAS)
,
sickle cell anaemia
,
volume regulatory hormones
Citation
Afolabi BB, Oladipo OO, Akanmu AS, Abudu OO, Sofola OA, Broughton Pipkin F. Volume regulatory hormones and plasma volume in pregnant women with sickle cell disorder. J Renin Angiotensin Aldosterone Syst. 2016 Jul;17(3). doi: 10.1177/1470320316670444. Print 2016 Jul. PubMed PMID: 27678389; PubMed Central PMCID: PMC5843859.