Distant Africa: Chinese Cultural Juxtapositions of an African Culture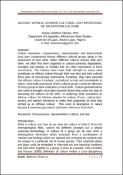 Publisher
NNAMDI AZIKWE UNIVERSITY,AWKA
Abstract
Culture awareness, consciousness, representations and discernments have been fundamental themes different cultural groups adopt in the assessment of each other. When different cultures interact with each other, we often find them subjected to cultural paranoia, degradation, strengths and phobias as exhibits that are often transmitted in these assessments. The Chinese have made bold attempts to assess what constitutes an African culture through their own lens and their cultural focal view of microscopic instruments. Evidently, they have assumed that African culture is barbaric, uncivilized, archaic and cannibalistic in nature. Such bold assessment of this cultural group reveals the dilemma of most groups in their evaluation of each other. Culture generalizations and cultural strengths have been dynamic factors that come into play in dissecting the cultures of the other. In analyzing what constitutes an African culture, the Chinese adopted the notions of race, colonization, slavery and western literatures to make their judgments of what they termed as an African culture. This work is descriptive in nature because it examines past events and draws references from them.
Description
How do the Chinese view their culture? The Chinese view their culture from a point of superiority. The preeminent of Chinese culture can be traced back to ancient times and this is the foundation on which Chinese history is built. The concept of race superiority and its theories are not new in world history since humans had been categorized into different races based on their colors (black, white, yellow and red). With the categorization of races came the discrimination and the radicalization of certain beliefs about different races of the world. Similarly, the Chinese also developed a strong concept of themselves against other races since the most primitive advancement of time and space. They saw themselves as a unique race, one that was way supreme and stood at the center of the world. At the center of the world, they perceived themselves as existing under heaven (Tian xia天下) or at center and source of the world (Zhongyuan中原), or within the four seas (Zai si hai zhi nei 在四海之内).
Keywords
Consciousness, representations, culture, judgments and race
Citation
Olaniyi, B. A. (2019). DISTANT AFRICA: CHINESE CULTURAL JUXTAPOSITIONS OF AN AFRICAN CULTURE. INTERDISCIPLINARY JOURNAL OF AFRICAN & ASIAN STUDIES (IJAAS), 5(1).
Collections