Medication Adherence Among Nigerians with Schizophrenia: Correlation Between Clinico-Demographic Factors and Quality of Life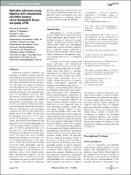 Abstract
Medication adherence contributes significantly to symptom remission, recovery and wellbeing in mental illnesses. We evaluated how medication adherence correlates with clinico-demographic factors and quality of life (QoL) in a sample of Nigerians with schizophrenia. This descriptive cross-sectional study involved 160 randomly selected participants with confirmed diagnosis of schizophrenia based on MINI International Neuropsychiatric Interview. Data on socio-demographic and clinical characteristics of participants were collected with a questionnaire. Medication adherence was assessed with Morisky Medication Adherence Questionnaire, and participants completed the World Health Organization Quality of Life Scale-BREF. The mean age of participants was 38.54 (±11.30) years, and all the participants were on antipsychotics, but only 45% were adherent to their medication. Out of all the participants, 45 (28.2%) considered their overall QoL to be good, 97 (60.6%) considered theirs to be fair, while 18 (11.2%) reported poor QoL. Medication non-adherence correlated negatively with good QoL across multiple dimensions including overall QoL (r=-0.175), health satisfaction (r=-0.161), physical (r=-0.186) and psychological domain (r=-0.175). Again, participant's age (r=-0.190) and age of onset of illness (r=-0.172) correlated negatively with medication non-adherence, and a trend towards relapse delay with medication adherence was also observed (r=-0.155). The effect size of these correlations were however small. Our findings suggest a link between medication adherence and QoL in schizophrenia, such that strategy that addresses medication non-adherence and its determinants may have potential benefits on wellbeing. Further hypotheses-driven studies are desirable.
Keywords
Africa
,
Clinico-Demographic
,
Medication adherence
,
Schizophrenia
,
Wellbeing
Citation
Ogunnubi OP, Olagunju AT, Aina OF, Okubadejo NU. Medication Adherence Among Nigerians with Schizophrenia: Correlation Between Clinico-Demographic Factors and Quality of Life. Ment Illn. 2017 Mar 22;9(1):6889.
Collections