Exercise training improves functional walking capacity and activity leve lof Nigerians with chronic biventricular heart failure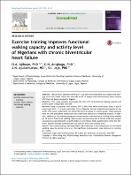 Publisher
Hong Kong Physiotherapy Journal
Abstract
Background:Exercise training (ET) has been recommended as an adjunctive ther-apy in chronic heart failure but the role of ETin people with biventricular heart failure(BVF) has not been explored in Nigeria.Objective:This study aimed to investigate the role of ET on functional walking capacity andactivity level of Nigerians with BVF.Methods:Sixty-six patients with chronic BVF in New York Heart Association Class II and III(mean age 54.0 1.6 years) recruited from a Nigerian tertiary hospital participated in thestudy. They were randomized into either the exercise group or control group. These patient swere on their prescribed medications and underwent education/counselling sessions. In addition, patients in the exercise group performed aerobic and resistance training thrice weekly for 12 weeks. Functional walking capacity was assessed using the 6-minute walk test, oxygen consumption was estimated using the Duke Activity Status Index questionnaire while the Veterans' Specific Activity questionnaire was used to assess the activity level.Results:The exercise group had significant improvements in all components of functional walking capacity and activity level. No significant improvement was observed in controls(p<0.05).Conclusion:Supervised and structured ET is safe and beneficial for patients with BVF.
Keywords
Activity level
,
Excercise trainning
,
Chronic heart failure
,
Functional walking capacity
,
Research Subject Categories::MEDICINE
Citation
Ajiboye, A.O., Anigbogu, C.N., Ajuluchukwu, C.N. and Jaja, S.I. (2015). Exercise training improves functional walking capacity and activity leve lof Nigerians with chronic biventricular heart failure.
Collections