Anti-inflammatory and analgesic properties of rhizozome extract of Zingeber Officinale.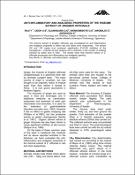 Authors
Raji Y., Udoh U.S., Oluwadara O.O., Akinsomisoye O.S., Awobajo O., Adeshoga K.
Publisher
African. J. Biomedical Research.
Abstract
The rhizome extract of Zingiber officinale was investigated for anti inflammatory and analgesic properties in albino rats and Swiss mice respectively. The extract (50 and 100 mg/kg b.w) produced significantly (P<0.05) inhibition of the carrageenan – induced rat paw oedema and a reduction in the number of writhing induced by acetic acid in mice. The results show that rhizome extract of Z.officinale possesses anti inflammatory and analgesic agent(s).
Keywords
Z. officinale, anti-inflammation, analgesic
Collections