Optimization of Solid State Fermentation of 2-Deoxy-D-Glucose Aspergillus niger Mutant for Improved Cellulase Production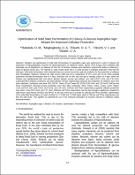 Publisher
Nigerian Journal of Biochemistry and Molecular Biology
Abstract
Mutation and optimization of solid state fermentation of Aspergillus niger were performed in order to enhance the production of lignocellulolytic enzymes for biotransformation of cellulosic wastes. Spores of the fungus were irradiated with ultraviolet rays at 300μW/cm2 at a distance of 15cm for 30 minutes. Mutants were selected in mineral salt medium containing 2-deoxy D-glucose (0.001 g/L). The selected A. niger mutant strain had a 2.1-fold increase in cellulase production more than the wild type. Solid-state fermentation of the selected strain was carried out and the optimal conditions for the production of cellulase were investigated. Optimum moisture for high enzyme yield was 20 %, temperature of 37ºC, and a pH of 3.5. Other physical parameters included fermentation time of 4 days, inoculum size of 25% w/w and age of seeding culture of 4 days. When the medium was supplemented with corn-starch, glucose, lactose, sucrose and maltose; corn starch [9.21 U/mL and 2.30 U/mL Carboxylmethyl cellulose (CMCase) and total cellulose (FPase) respectively] enhanced the production of cellulase more than other substrates. Surfactants used were SDS, EDTA, Tween-20 and Tween-80. EDTA (9.39 U/mL and 2.30 U/mL CMCase and FPase respectively) enhanced enzyme production more than other surfactants. When ZnSO4, FeSO4, CuSO4, CaCl2, MgCl2, CoCl2 and KCl were used; FeSO4 (9.29 U/mL and 2.46 U/mL CMCase and FPase respectively) supported cellulase production over others. Urea (9.52 U/mL and 2.37 U/mL CMCase and FPase respectively) was the best nitrogen supplement compared to malt extract, yeast extract, NH4NO3 and NH4Cl. In all cases, there was an increase in CMCase and FPase activities. Optimization of the solid state fermentation of mutant resulted in a 7.4-fold and 7.6-fold higher yield in CMCase and FPase respectively more than the wild strain. This signifies its potential for use in the enhanced production of enzymes relevant in cellulosic wastes biotransformation.
Keywords
Research Subject Categories::NATURAL SCIENCES::Chemistry::Biochemistry
,
Aspergillus niger
,
Cellulase
,
UV mutation
,
Optimization
,
Fermentation
Citation
Babalola, O. M., Magbagbeola, O. A., Ebuehi, O. A. T., Okochi, V. I. and Okafor, U. A. Optimization of Solid State Fermentation of 2-Deoxy-D-Glucose Aspergillus niger Mutant for Improved Cellulase Production. Nigerian Journal of Biochemistry and Molecular Biology 2015; 30(1): 57-65.
Collections