Incidence of congenital malaria at delivery in Lagos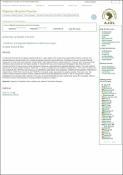 Abstract
To determine the incidence of congenital malaria at delivery in Lagos, Nigeria. Thick smears were prepared from maternal, umbilical cord, placental blood and neonatal blood of five hundred consenting consecutive women at the time of delivery at the Lagos University Teaching Hospital (LUTH) and Lagos Island Maternity Hospital (LIMH) Lagos, Nigeria during the period-August 2011- February 2012. They were stained with Giemsa stain and examined for malaria parasites. A structured form was used to obtain socio-demographic data. Proportions were compared using the Chi square-test and linear regression analysis was used to determine relationship between variables. The mean maternal age was 28.7±3.2years (range21-40years). There were 151 (30.2%) primigravidae and 349(69.8%) multigravidae. Four hundred and twenty two were booked (84.4%), 78(15.6%) were unbooked, and 484 (96.8%) used malaria chemoprophylaxis. 100(20%) of neonatal blood, 154(30.8%) of maternal blood, 108(21.6%) of cord blood and 126(25.2%) of placental smears were positive for malaria parasites. There was a very high positive correlation between neonatal, maternal, umbilical cord and placental parasitaemia (p<0.05). In view of the high rates of malaria parasitaemia in the neonatal smears observed in this study, we recommend health education, routine smear workup for all neonates with fever and effective malaria chemotherapy and chemoprophylaxis in pregnancy in Nigeria.
Keywords
Pregnancy
,
Congenital malaria
,
Umbilical cord
,
Placenta
,
Plasmodium falciparum
,
Research Subject Categories::MEDICINE
Citation
Oluwole AA, Anorlu RI, Fajolu IB. Incidence of congenital malaria at delivery in Lagos. Nigerian Hospital Practice. 2014; 13(5-6):53-60.
Collections