Challenges of Finance and the Performance of Small and Medium Enterprises (SMEs) in Lagos State.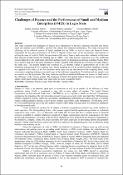 Publisher
Developing Country Studies
Abstract
This study examined the challenges of finance as is experienced by business operators classified into micro, small and medium scale (MSMEs), and how this affects their financial performance. The study evaluated the efficiency of the different sources of funds available for the SMEs as well as other non financial factors responsible for the poor performance of SMEs in Nigeria. Given some of the government interventions to solving the issue of credit to SMEs, the operations of the micro finance banks were also evaluated to determine their capacity toward closing the funding gap for SMEs. This study became imperative given the conflicting reasons adduced to why small scale enterprises perform poorly in developing economies including Nigeria There was a need to find out if the major challenge of SMEs is indeed credit using the five divisions in Lagos State as the study area. The useable sample size consisted of 222 returned copies of questionnaire out of the 250 distributed representing 88.8% response rates. Quota sampling as well as stratified random sampling technique was applied in the choice of the five divisions under study and the distribution of the sampling frame; while convenience sampling technique was used to get to the individual respondents. Correlation and one sample t-test was used to test the hypotheses. The study indicated significant statistical difference for sources of funds and in the efficiency of the various sources. The challenge of funds still ranked highest followed by unstable power supply, while micro finance banks were expected to do more to assist the SMEs.
Keywords
Challenges, Finance, Lagos State, MSMEs, Nigeria, SMEs.
Citation
Adebisi, S. A., Alaneme, G. C., Ofuani, A. B. (2015). Challenges of Finance and the Performance of Small and Medium Enterprises (SMEs) in Lagos State. Developing Country Studies, 5(8): 46-57.