Serum ferritin and blood pressure modulation in first-time and regular blood donors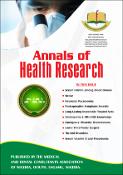 Publisher
Annals of Health Research
Abstract
Background:The health benefits ofblood donation are well known. However, the overall effect of long term regular blood donation on body iron store and blood pressure need to be evaluated among voluntary blood donors.Objective:To determine the effect of long term, regular blood donation onbody iron store and blood pressure amongregular voluntary non-remunerated blood donors in Lagos, Nigeria.Methods:Consenting adult blood donors (n = 320), ranging from the first time to regular blood donors were studied over six months. Supine blood pressure (BP) readings were taken twice at 30 minutes interval with a mercury sphygmomanometer. Venous whole blood was drawn into EDTA anti-coagulated and plain tubes for haematological parameters and serum ferritin estimation using Enzyme-linked Immunosorbent Assay (ELISA) method. Results:The mean serum ferritin levels declined significantly from 95.5ng/mL amongfirst time donors to 68.9ng/mL among Category IIIdonors (p = 0.035). Male voluntary blood donors had increased risk of low serum ferritin level (OR = 5.02; 95%CI= 1.12-22.51; p = 0.035). Lower values of serum ferritin were recorded more frequently among donors within the 21-30 year age category (OR = 1.54; 95%CI = 1.0-2.71; p= 0.042). Long term regular voluntary blood donation was associated with significant reduction in mean systolic blood pressure (p = 0.01).Conclusion:Long term blood donation resulted in the reduction of blood pressure. Progressive increase in the duration of donation resulted in reduced iron stores even as haemoglobin concentration levels remained acceptable for blood donation.
Keywords
Blood pressure
,
Long term blood donation
,
serum ferritin
,
Voluntary blood donors
,
Research Subject Categories::MEDICINE
Citation
Akanmu AS, Osunkalu VO, Lawal-Folorunsho SA. Serum ferritin and blood pressure modulation in first time and regular blood donors. Annals of health research, 2019; Volume 5: Issue 1:1-10.