Dietary pattern, body mass index and nutritional knowledge of adult diabetic patients: a multi centre study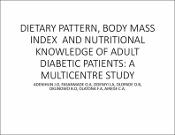 Publisher
Endocrine and metabolism society of Nigeria
Abstract
OBJECTIVES To assess the dietary pattern, the Body Mass Index, level of nutritional knowledge and identify factors associated with the Dietary Pattern and Body Mass Index of Diabetic Patients Attending Teaching Hospitals In Lagos METHODOLOGY Study design: The study was a descriptive cross-sectional study Study population: It involved 342 adult diabetic patients who were attending the outpatient clinics at LUTH and LASUTH. Data Collection: Pre-tested interviewer-administered questionnaire from diabetic patients attending the diabetes clinic. The Food frequency questionnaire was adopted from Nigerian National Food Consumption Survey. Result A statistically significant association was seen between Sex of the patients and Body mass index p = 0.0003 Diet counseling and Body mass index p <0.05 Discussion Nutritional knowledge was low as only 37.0% had an overall good knowledge. Starchy foods were seen to be the most consumed meals. A high prevalence of overweight and obese patients with only 1.5% being underweight. A statistically significant association was seen between the patients' sex and nutritional status. Also between diet counseling and nutritional status. Conclusion There was poor nutritional knowledge, the majority were overweight and the dietary pattern was not good enough. Thus it is essential that patients are counseled adequately.
Keywords
Body Mass Index
,
level of nutritional knowledge
,
Dietary Pattern
,
Diabetic Patients
,
Research Subject Categories::MEDICINE
Citation
Adenihun JO, Fasanmade OA, Odeniyi IA, Olopade OB, Okunowo BO, Olatona FA, Airede CA. Dietary pattern, body mass index and nutritional knowledge of adult diabetic patients: a multi centre study.
Collections