Interim data monitoring to enroll higher-risk participants in hiv prevention trials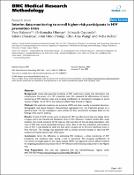 Abstract
Background: Lower-than-expected incidence of HIV undermines sample size calculations and compromises the power of a HIV prevention trial. We evaluated the effectiveness of interim monitoring of HIV infection rates and on-going modification of recruitment strategies to enroll women at higher risk of HIV in the Cellulose Sulfate Phase III study in Nigeria. Methods: We analyzed prevalence and incidence of HIV and other sexually transmitted infections, demographic and sexual behavior characteristics aggregated over the treatment groups on a quarterly basis. The site investigators were advised on their recruitment strategies based on the findings of the interim analyses. Results: A total of 3619 women were screened and 1644 enrolled at the Ikeja and Apapa clinics in Lagos, and at the Central and Peripheral clinics in Port Harcourt. Twelve months after study initiation, the overall incidence of HIV was less than one-third of the pre-study assumption, with rates of HIV that varied substantially between clinics. Due to the low prevalence and incidence rates of HIV, it was decided to close the Ikeja clinic in Lagos and to find new catchment areas in Port Harcourt. This strategy was associated with an almost two-fold increase in observed HIV incidence during the second year of the study. Conclusion: Given the difficulties in estimating HIV incidence, a close monitoring of HIV prevalence and incidence rates during a trial is warranted. The on-going modification of recruitment strategies based on the regular analysis of HIV rates appeared to be an efficient method for targeting populations at greatest risk of HIV infection and increasing study power in the Nigeria trial. Trial Registration: The trial was registered with the ClinicalTrials.gov registry under #NCT00120770 http://clinicaltrials.gov/ct2/show/NCT00120770
Keywords
HIV prevention
,
Cellulose Sulfate Phase III study
,
Women
,
Nigeria
,
Research Subject Categories::MEDICINE::Microbiology, immunology, infectious diseases
Citation
Halpern, V., Obunge, O., Ogunsola, F., Otusanya, S., Umo-Otong, J., Wang, C. and Mehta, N. (2009). Interim data monitoring to enroll higher-risk participants in HIV prevention trials. BMC Medical Research Methodology, 9: 44-46.