Effect of zinc deficiency on memory, oxidative stress and blood chemistry in rats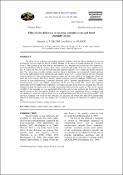 Publisher
International Journal of Biological and Chemical Sciences
Abstract
The effect of zinc deficiency on memory function, oxidative stress and blood chemistry in rats was investigated. Forty-two male (65.0±2.78 g) albino Sprague Dawley rats were equally divided into 3 groups, A, B and C. The 3 groups of rats were fed zinc deficient diet, zinc adequate diet and reference diet, respectively, and water ad libitum daily for 30 days. Body weight, feed and water intake of the rats were computed every day. A shuttle box was used for the short-term and long-term memory tests of these rats fed the respective diets. Two criteria were considered as behavioural test; these include latency in entering dark chamber and time spent in the light chamber before entering the dark chamber at days 2, 9, 16 and 23 after the first day of training using the shuttle box. After the memory testing was conducted, rats were sacrificed by decapitation, blood was taken and brain excised. Total brain protein, plasma creatinine, reduced glutathione (GSH) levels, specific activities of acetylcholinesterase, superoxide dismutase (SOD), aspartate aminotransferase (AST), alanine aminotransferase (ALT) and alkaline phosphatase (ALP) were determined. The control diet supported significantly (p<0.01) higher body weight gain, feed intake and water intake than zinc adequate diet. The zinc adequate rat spent the longest time in the light compartment, followed by the control rat. The specific activity of AchE of zinc adequate rats was significantly higher than rats fed zinc deficient and control diet. Brain specific activity of SOD and reduced GSH of zinc adequate rats were significantly lower as compared with zinc deficient or control diet fed rats. There was no significant difference in the activities of plasma AST, ALT and ALP, creatinine level of rats fed zinc deficient, zinc adequate and control diets. Data of the present study indicate the effectiveness of the zinc adequate diet in memory retention and alleviation of oxidative stress in rats.
Keywords
Memory, oxidative stress, blood chemistry, zinc
Citation
Osaretin A. T. EBUEHI and Gabriel A. AKANDE Department of Biochemistry, College of Medicine, University of Lagos, P. M. B. 12003, Lagos, Nigeria.
Collections