Expert Opinion: Patient Selection for Premixed Insulin Formulations in Diabetes Care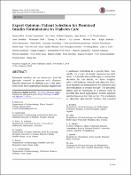 Publisher
Springer Healthcare communications
Abstract
Premixed insulins are an important tool for glycemic control in persons with diabetes. Equally important in diabetes care is the selection of the most appropriate insulin regimen for a particular individual at a specific time. Currently, the choice of insulin regimens for initiation or intensification of therapy is a subjective decision. In this article, we share insights, which will help in rational and objective selection of premixed formulations for initiation and intensification of insulin therapy. The glycemic status and its variations in a person help to identify the most appropriate insulin regimen and formulation for him or her. The evolution of objective glucometric indices has enabled better glycemic monitoring of individuals with diabetes. Management of diabetes has evolved from a 'glucocentric' approach to a 'patient-centered' approach; patient characteristics, needs, and preferences should be evaluated when considering premixed insulin for treatment of diabetes.Funding: Novo Nordisk, India.
Keywords
Coformulation
,
Insulin intensification
,
Lispromix
,
Premixed insulins
,
Research Subject Categories::MEDICINE
Citation
Kalra S, Czupryniak L, Kilov G, Lamptey R, Kumar A, Unnikrishnan AG, Boudiba A, Abid M, Akanov ZA, Latheef A, Araz M, Audehm R, Bahendeka S, Balde N, Chaudhary S, Deerochanawong C, Fasanmade O, Iraqi H, Latt TS, Mbanya JC, Rodriguez-Saldana J, Hyun KS, Latif ZA, Lushchyk M, Megallaa M, Naseri MW, Bay NQ, Ramaiya K, Randeree H, Raza SA, Shaikh K, Shrestha D, Sobngwi E, Somasundaram N, Sukor N, Tan R. Expert Opinion: Patient Selection for Premixed Insulin Formulations in Diabetes Care. Diabetes Ther. 2018 Dec;9(6):2185-2199.
Collections