DICHLORVOS CURTAILS SEXUAL BEHAVIOR AND FERTILITY IN MALE SPRAGUE-DAWLEY RATS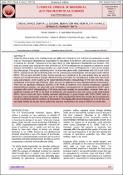 Publisher
European Journal of Biomedical AND Pharmaceutical sciences
Abstract
Dopamine (DA) activity in the medial preoptic area (MPOA) contributes to the control of sexual behavior in adult male rat. The presence of testosterone is permissive for DA release in the MPOA, both during basal conditions and in response to a female. Testosterone is the major driver of male reproductive development and function. This study was carried out to evaluate the effect of dichlorvos DDVP on testosterone and dopamine in relation to sexual behavior and fertility in male Sprague-Dawley rats. Experimental rat (n=18) Weighing 245.17±10.18 were divided into three groups. Two groups containing seven rats each were given water contaminated with 0.01% and 0.05% DDVP, respectively per day as drinking water and the control group containing four rats was given water without DDVP. The rats were fed with 30 days. Female animals were introduced to the male animals twice per week to observe any sexual behavioural changes. Blood chemistry parameters and hematological profile were determined using auto-analyzer, semen quality by the neuberhaematocytometer, histopathology of the brain and testis, assay of dopamine in the serum and MPOA by HPLC and assay of testosterone using chemiluminescent immunoassay. There was no significant difference (p>0.05) in the levels of creatinine, urea, alkaline phosphatase, aspartate aminotransferase activities, red blood cell count, hemoglobin, haematocrit level of rat administered DDVP when compared with control. Histopathology of the brain and testis revealed no abnormalities. However, there was a significant increase (p<0.05) in the level of testosterone and dopamine across the groups orally administered DDVP. Sperm count and sperm motility decreased significantly in group treated with 0.05% DDVP with an increase in sperm abnormality. Therefore, data of this study revealed that DDVP may increase the sexual behavior of rats by interfering with the synthesis of testosterone in the leydig cells which increased DA in the MPOA, but can impair fertility due to poor semen quality that may have resulted from the action of DDVP on sertolli cells.
Keywords
Research Subject Categories::NATURAL SCIENCES::Chemistry::Biochemistry
,
dopamine
,
medial preoptic area
Citation
Ebuehi Osaretin A. T. and Alaba Olawunmi E. ejbps, 2019, Volume 6, Issue 5, 125-131.
Collections