Vocational Training and Small Business Enterprises Intention amongTrainees in Lagos State, Nigeria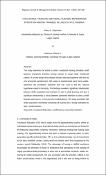 Publisher
Faculty of Business Administration, University of Lagos. Lagos, Nigeria
Abstract
The study examines the extent to which vocational training stimulate small business enterprises intention among trainees in Lagos State Vocational centres. A survey design was adopted; primary data were gathered with the aid of a structured questionnaire. 592 copies of questionnaire were found usable. Spearman rho correlation statistical tool was used to test the relevant hypotheses raised in the study. The findings revealed a significant relationship between skills acquisition and intention to start a small business and also a significant relationship is found between perceived intention to start a small business and parents 'ownership of a small business. The study concludes that skills acquisition and family ownership of business are a strong motivation to start a small business.
Keywords
Vocational Education
,
Small business ownership intention
,
Research Subject Categories::SOCIAL SCIENCES::Business and economics::Business studies
,
Small business enterprise
,
Vocational trainning
Citation
9. Olayiwola, P.O. and Alaneme, G.C. (2015). Vocational Training and Small Business Enterprises Intention amongTrainees in Lagos State, Nigeria. Nigerian Journal of Management Studies, Vol.13(1) 100-106.