Cyclosporine in the treatment of childhood idiopathic steroid resistant nephrotic syndrome: a single centre experience in Nigeria.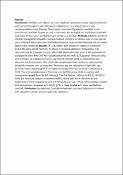 Publisher
African Field Epidemiology Network
Abstract
Abstract Introduction: Children with steroid resistant nephrotic syndrome usually require treatment with second-line agents and calcineurin inhibitors such as cyclosporine are now recommended as initial therapy. These agents only recently become available in our environment and their impact on care is unknown. We reviewed the short-term treatment outcomes of their use in comparison with previous outcomes. Methods: Medical records of children managed for idiopathic steroid resistant nephrotic syndrome over a 5 year period were reviewed. Remission rates and improvement in renal function following use of various agents were compared. Results: Of 103 children with idiopathic nephrotic syndrome, 25(24.3%) were steroid resistant, of whom 17 received additional medications. Full remission rate for cyclosporine was 70% (7/10). Remission rates prior to the availability of cyclosporine were 40% (2/5) for cyclophosphamide and 66% (2/3), (partial remission only) with enalapril, an angiotensin converting enzyme inhibitor used in combination with alternate day prednisolone. One child with cyclophosphamide resistance subsequently achieved remission with cyclosporine. Remission was not related to sex (p=0.96), age (p=0.54), serum albumin (p=0.37) or hypertension (p=0.43) but to serum cholesterol (p= 0.02). The estimated glomerular filteration rate (eGFR) among children treated with cyclosporine ranged from 30-167 ml/min/1.73m2 as follows: >90 (5); 60-89 (3); 30-59 (2) while the mean pre and post treatment eGFR in those with eGFR <90 were 60 and 104ml/min/1.73m2 respectively (p=0.03). Mortality rate was 10% (1/10) in children treated with cyclosporine compared with 28.6% (2/7) in those treated with other medications (p=0.54). Conclusion: Cyclosporine resulted in improved treatment outcomes in children with idiopathic steroid resistant nephrotic syndrome.
Keywords
Children
,
steroid resistant nephrotic syndrome
,
cyclosporine
,
cyclophosphamide resistance
,
Research Subject Categories::MEDICINE
Citation
Ladapo, T.A.; Esezobor, C.I.; Lesi, F.E. (2016). Cyclosporine in the treatment of childhood idiopathic steroid resistant nephrotic syndrome: a single centre experience in Nigeria. Pan Afr Med J. 29(25), 258. doi: 10.11604/pamj.2016.25.258.9802
Collections