A Statistical Analysis of the Performance Distance Learning Students and the Full-Time Students at the University of Lagos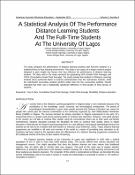 Publisher
American Journal of Business Education
Abstract
The study compares the performance of distance learning students with full-time students in a traditional face-to-face learning environment. This study is one aspect of a larger research project designed to gain insight into factors that may influence the performance of distance learning students. The data used in the study represent the graduating GPA (Grade Point Average) and CGPA (Cumulative Grade Point Average). The result showed that students of Distance Learning Institute (DLI) performed better in business administration than the mainstream students, while the mainstream accounting students perform better than the DLI accounting students. Results indicated that there was a statistically significant difference in final grades of these groups of students
Keywords
Face to face
,
Cumulative Grade Point Average
,
Grade Point Average
,
flexibility-Distance education
,
Research Subject Categories::SOCIAL SCIENCES::Statistics, computer and systems science
Citation
Adewara, J. A., Adeleke, I. A., Ogundeji, R. K., & Ahani, E. B. (2010). A Statistical Analysis of the Performance Distance Learning Students and the Full-Time Students at the University of Lagos. American Journal of Business Education, 3(6), 17-22.
Collections