Legal Studies of the theory of Naskh in the Qur'an and Sunnah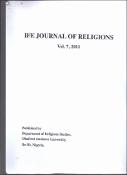 Publisher
Department of Religious Studies, Obafemi Awolowo University, Ile-Ife, Nigeria
Abstract
This paper explores the theory of Naskh as one of the fundamental styles in the studies of the Qur' an. It is introduced with the examination of the Qur' an as a source of all branches of Islamic discipline. It provides defnitions to some concepts for the clarification of related terms. The historical development of the theory of Naskh is highlighted. The paper then moves into the examination of textual application of the theory of Naskh in the Qur' an and Sunnah 'as a means to the understanding the study of Tafsir Shari ah andUsul al-Fiqn under Islamic Studies.
Keywords
Legal Studies, Theory, Naskh, Qur'an, Sunnah
,
Legal Studies
,
Theory
,
Naskh
,
Qur'an
,
Sunnah
,
Research Subject Categories::HUMANITIES and RELIGION::Religion/Theology::Islamology
Citation
Adegoke, K. A. (2011). Legal Studies of the theory of Naskh in the Qur'an and Sunnah. Ife Journal of Religions, Department of Religious Studies, Obafemi Awolowo University, Ile-Ife, Nigeria, Vol. 7, 111-121.