In-hospital outcome of children referred for cardiac surgery abroad from a developing country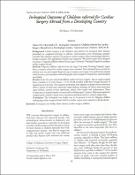 Publisher
Paediatric Association of Nigeria
Abstract
Background: Cardiac surgery is the definitive intervention for structural heart diseases particularly of congenital aetiology in children. Unfortunately, most developing countries currently lack adequate capacity for paediatric cardiac surgery often necessitating referral to foreign countries with appropriate facilities and capacities. We hereby report the in-hospital outcome of Nigerian children referred from Lagos University Teaching Hospital to undergo cardiac surgery abroad. Methods: Nigerian children referred from the Lagos University Teaching Hospital, Lagos State, to centres abroad for cardiac reviewed Data obtained from records for analysis were sex, pre-surgical diagnosis, age at surgery, year surgery was performed, surgical centre location, post-operative echocardiography report, length of hospital stay and in-hospital case fatality. Results: In the five year period 68 children underwent heart surgery. Age at surgery ranged from 3 months to 14years (mean=41.71±43.88 months) while their average duration of hospital stay was 25 days. The surgeries performed were ligation of patent ductus arteriosus (PDA), repairs of atrial and ventricular septal defects, tetralogy of Fallot, atrioventricular canal defects, arterial switch operations, mitral valve repair and replacement. Three 94.4percent) in-hospital deaths occurred (all in children <2years). Major post operative complications related to death were respiratory problems and low cardiac output state. Conclusion: The in-hospital case fatality rate at 4.4percent is low for Nigerian children undergoing cardiac surgery abroad with low cardiac output state common to all the deaths.
Keywords
In-hospital case fatality
,
heart disease
,
cardiac surgery
,
Children
,
Research Subject Categories::MEDICINE
Citation
Ekure, E.N, Okoromah, C.A.N. In-hospital outcome of children referred for cardiac surgery abroad from a developing country. Nig J Paediatr 2009; 36(3&4): 80-86.
Collections