Prevalence of Carbapenem resistant Klebsiella pneumoniae infections in a Nigerian Teaching Hospital.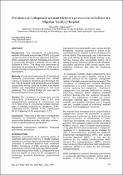 Publisher
Nigerian Quarterly Journal of Hospital Medicine
Abstract
Background: The emergence of carbapenem resistant Klebsiella pneumoniae (CRKP) is of great concern because of the limited options for treatment. While carbapenem resistant Klebsiella pneumoniae is increasingly identified worldwide, limited data is available in Africa. This study was undertaken to determine the prevalence of CRKP in LUTH and to provide phenotypic characterisation of the resistance mechanisms. Methods: A cross sectional study with 153 isolates of Klebsiella pneumoniae obtained from clinical cultures of inpatients identified using Microbact 12A and 12B. All isolates were subjected to antimicrobial susceptibility testing using the Modified Kirby Bauer method and interpreted according to the CLSI guidelines. The modified Hodge test was used to detect carbapenemase production. Results: The prevalence of carbapenem resistant Klebsiella pneumoniae was 5.2% and carbapenamase producing K. pneumoniae was 2.6%. Most of the K. pneumoniae isolates had high rates of antibiotic resistance to Cefotaxime 78.4%, Ceftazidime 67.3%, Genticin 71.9%, Ciprofloxacin 59.5%, Cefepime 10.5% and Amikacin 13.7%. Conclusion: There was a high rate of carbapenem resistance in Klebsiella pneumoniae. The K. pneumoniae isolates were also multi-drug resistant. There is need for antibiotic stewardship.
Keywords
Carbapenem resistance
,
Kelbsiella pneumoniae
,
prevalence
Citation
Oshun P.O, Ogunsola F.T (2018). Carbapenem resistant Klebsiella pneumonia at the Lagos Univesity Teaching Hospital Lagos Nigeria. Nig Qt J Hosp Med 28: 110 – 114