A Comparative Study of Factor VIII Levels in Fresh‑Frozen Plasma from Whole Blood Stored at Varying Temperatures and Durations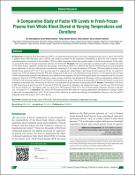 Abstract
In Nigeria, fresh‑frozen plasma (FFP) is an important plasma product to provide coagulation factors such as factor VIII (FVIII) in patients with FVIII deficiency and is still the only product available for the treatment of hemophilia A and B in some countries where recombinant factor concentrate is not available. FVIII is a labile coagulation factor and a quality marker of fresh‑frozen plasma. In this study, we assessed the effect of storage temperature and time on FVIII yield. Methods: This was a descriptive‑analytical study of a random selection of 136 blood donors, randomly divided into four groups. Whole blood (WB) was collected into 450 ml of blood bag from each participant and an additional 4.5 ml was collected into citrated bottle containing 0.5 ml citrate for baseline FVIII assay. WB from donors in Group A and Group B were stored at 20°C–24°C for 6 h or less and 12 h, respectively, while Group C and Group D were stored at 4°C for 12 h and 24 h, respectively. FFP was prepared from the WB after storage and FVIII levels were determined using Sysmex CA‑101 based on the principle of turbo‑densitometry principle with automatic zero adjustment and magnetic stir bar for homogenizing the test suspension and for increased sensitivity. The level of FVIII in FFP produced at various storage conditions was determined. Percentage yield was calculated as median level of FVIII in FFP per group/median level of FVIII in citrated plasma per group ×100. This is the proportion of FVIII in FFP relative to the level at baseline in the donor unit, whereas the FVIII level is an indication of just the level in the produced FFP. Results: The median FVIII level in FFP from Group A and B was 0.87 IU/ml and 0.82 IU/ml, respectively. Similarly, the median for Group C and D were 0.86 IU/ml and 0.76 IU/ml, respectively. The highest yield was observed in FFP prepared within 6 h or less of blood sample collection and least yield after 24 h of storage at 4°C. Conclusion: The yield of FVIII produced from WB under the varying temperatures and durations of storage studied is above the recommended level of 0.7 IU/ml; hence will be effective for replacement therapy in hemophiliacs. However, the best yield is obtainable from WB stored at 20°C–24°C for 6 h.
Keywords
Duration of storage
,
factor VIII levels
,
fresh frozen plasma
,
hemophilia
,
temperature of storage
,
Research Subject Categories::MEDICINE
Citation
Ogbenna, A. A, Oyewole, K. M, Adeyemo, T. A., Oyedele, F., Oyelaran, D. O. (2022). A comparative study of factor VIII levels in fresh-frozen plasma from whole blood stored at varying temperatures and durations. Ann Trop Pathol, 13, 56-9.