Clinical practice guidelines on diabetes mellitus for Lagos state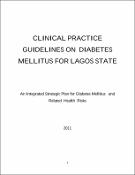 Publisher
Lagos State Ministry of Heath
Abstract
STATEMENT OF INTENT These consensus guidelines are a guide for clinical practice, based on the best available evidence at the time of development. These guidelines are provided to empower medical professionals at every level of healthcare delivery in Lagos State to diagnose and manage uncomplicated cases of diabetes mellitus in ADULTS. Any failure to enforce any provision of these Guidelines shall not constitute a waiver thereof or any of its provisions. No legal proceedings of any nature whatsoever can be proposed or initiated against any of the setters. GUIDELINE OBJECTIVES The aim of the consensus guidelines is to provide evidence-based recommendations to assist health care providers in the diagnosis and management of DM in adults. TARGET GROUP This guideline is meant for all healthcare professionals providing DM care at the secondary and primary health care levels. DEVELOPMENT AND REVIEW OF THE GUIDELINES The Guidelines were prepared by a panel of experts drawn from appropriate Nigerian academic, professional, community, and government organizations. These organizations are namely, Diabetes Association of Nigeria, Nigerian Society of Endocrinology and metabolism, Lagos State Ministry of Health, and Codix Pharma. The Permanent Secretary of the Lagos State Ministry of Health made the proposal for the Guideline to be put in place. The Guidelines were developed mainly by "Consensus Processs" based on existing DM Guidelines for the African Region. Guidelines on DM for the African Region were adapted for local use by the LSWGD taking into account, demographics, resources, culture, and other factors. This process of local adaptation is hoped will expose the clinicians and other health care providers to the guidelines and make the guidelines more relevant to local conditions, thus encouraging a feeling of ownership. These guidelines will be reviewed every three to five years where necessary and will take into account new diagnostic and treatment modalities and the results of the evaluation of the guideline outcomes.
Keywords
Diabetic mellitus
,
Lagos state
,
Clinical practice
,
Patients
,
Research Subject Categories::MEDICINE
Citation
Fasanmade OA, Ogbera AO, Balogun A, Isiavwe AR, Adeyemi-doro A, Ogunjimi S, Taiwo OO, Oduwole O, Kuku SF, Afinowi H. Clinical practice guidelines on diabetes mellitus for Lagos state.
Collections