Hepatitis B Virus Sero-positivity among Voluntary Blood Donors at a Centralized Blood Service Centre in Nigeria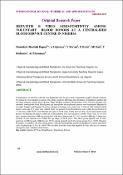 Publisher
International Journal of Medical and Applied Sciences
Abstract
Complications of infection with the viral hepatitides may be prevented in hepatitides negative blood recipients by testing for viral markers in donors. This study sought to determine the prevalence of hepatitis B surface and envelope antigens, among blood donors. Three hundred voluntary blood donors were recruited. Biodata was obtained, haemoglobin level, blood group and hemoglobin electrophoretic pattern were determined. Hepatitis B envelope Antigen and Hepatitis B surface Antigen screening were carried out. A total of 300 voluntary blood donors, mean age 27.6 years were studied. Forty one percent of our blood donors were within the age bracket of 17-25 years, while 50.3% were between the ages of 26-45 years. Thirty three (13.8%) of first time donors were positive for hepatitis B markers while all retained donors were sero-negative; p=0.03. There were 32 (13.3%) sero- positive reactions to HBsAg among first time blood donors and 3 (1.3%) reacted to HBeAg. A large part, (54.6%) of sero reactors were within the age range of 26-45 years. The blood group specific rate of seropositivity to HBsAg and or HBeAg was 25.0% among group B, and 8.4% among groups O; p= 0.003. Hepatitis B markers was higher, (15.4%) among donors with AA haemoglobin protein electrophoretic pattern than those with AS phenotype (5.3%), P= 0.045. We conclude from this study that hepatitis B virus infection is common among first time voluntary blood donors.
Keywords
Hepatitis B Virus
,
Blood Donors
,
Transfusion Service
,
Research Subject Categories::MEDICINE
Citation
Dapus, D.O., Ogbenna, A.A., Ma'an, V., Rufai, O., Kut, S.D., Bodunde, T. and Mamman, A.I. (2013). Hepatitis B Virus Sero-positivity among Voluntary Blood Donors at a Centralized Blood Service Centre in Nigeria. International Journal of Medical and Applied Sciences, 2(3), 10-18.