Genetic polymorphisms of Vascular Endothelial Growth Factor (VEGF) associated with endometriosis in Nigerian women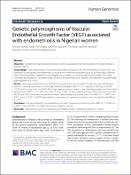 Abstract
Objective: To determine if genetic polymorphism of VEGF is associated with the development of endometriosis in Nigerian women. Study design: Case control study of 100 women (50 healthy controls and 50 with endometriosis). Serum VEGF concentration of participants were determined using enzyme-linked immunosorbent assay (ELISA) technique. Genomic DNAs were isolated from peripheral blood samples and quantified by nanodrop spectrophotometer one. Single nucleotide polymorphisms genotyping was carried out by polymerase chain reaction and restriction fragment length polymorphism (PCR-RFLP). Results: Mean age of participants was 32.96 ± 6.91 years for control and 32.04 ± 7.56 years for cases. VEGF levels in case and control groups were not statistically different (82.68 pg/ml [69.11-121.11 pg/ml] vs. 82.81 pg/ml [72.90-113.82 pg/ml] respectively; p = 0.967). All four genotypes examined were in Hardy-Weinberg equilibrium. Minor allele frequency of - 460T > C, - 1154G > A, + 936C > T and + 2578C > A were 24%, 8%, 6% and 10% in the control and 19%, 9%, 5% and 14% in endometriosis patients. However, allele and genotype distributions of - 460T > C, - 1154G > A, + 936C > T and + 2578C > A VEGF polymorphisms in endometriosis patients and control were not significantly different (p > 0.05). Conclusion: Our preliminary findings revealed no association between endometriosis and - 460T > C, - 1154G > A, + 936C > T and + 2578C > A of VEGF genes among Nigerian women.
Keywords
Ascites
,
Endometriosis
,
Genetic polymorphism
,
Nigeria
,
Vascular endothelial growth factor
,
Research Subject Categories::MEDICINE::Surgery::Obstetrics and women's diseases::Obstetrics and gynaecology
Citation
Babah OA, Ojewunmi OO, Osuntoki AA, Simon MA, Afolabi BB. Genetic polymorphisms of Vascular Endothelial Growth Factor (VEGF) associated with endometriosis in Nigerian women. Hum Genomics. 2021 Oct 30;15(1):64. doi: 10.1186/s40246-021-00364-x. PubMed PMID: 34717756; PubMed Central PMCID: PMC8556990.