Russian/English Translation Inadequacies: The Case of V. Putin's Speeches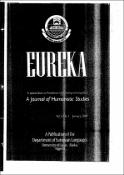 Publisher
Department of european Languages, University of Lagos.
Abstract
Translation is one of the mediating processes in international relations. Leaders and Heads of States and Government sign documents and make international commitments, based on translated documents or speeches. In 2007, the president of Russian Federation, Vladmir Putin was declared "Man of the Year" by the American News Magazine, Times. This was quite a paradox as the world sees Russia as a main source of checks and balances to the United States of America in the latter's bid to establish a unipolar world model under its absolute leadership and control. This paper takes a look at the translated documents and speeches of V. Putin analyzing the inadequacies in the translated works.
Keywords
Russian Federation
,
unipolar model
,
International treaty
,
Translator
,
Translation
,
Research Subject Categories::HUMANITIES and RELIGION::Languages and linguistics
Citation
Aigbovia, K.E. (2010) "Russian/English Translation Inadequacies: The Case of V. Putin's Speeches" in EUREKA, A Journal of Humanistic studies, Vol. 3, no. 1.