Audit: an essential tool for an effective control program - the lagos university teaching hospital experience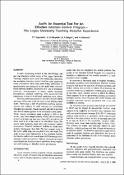 Abstract
A team comprising doctors in the microbiology unit and the infection control nurse of the Lagos University Teaching Hospital went round the wards/units, recording the available infection control facilities and observing some procedures while they were being performed. A questionnaire was designed for the audit which included hand washing facilities, avaiiabilily and use of protective clothing, management of linen, waste disposal procedures, sharps handling, and environmental cleanliness. A total of 25 different ward/units were visited. Running water was present in only 40°/o of ward visited and most of the staff could not carry out an effective hand wash. There was a lack of protective clothing (gloves, aprons and masks) for staff carrying out potentially infectious procedures. Waste disposal was also a problem and clinical waste appears to be accessible to the public .. While sharps containers were available in 32% of the wards, they were inappropriately utilised and knowledge of staff ns to lheir use wns poor. Over eon:, of stnff did not know what to do in the case of an inoculation injury. The wards were generally clean and well protected against mosquitoes. Patients' handwash facilities in toilets were grossly inadequate, less than 7% had running water in the toilets while soap was supplied in only one ward. This audit showed great deficiencies in the available facilities for inlection control and reveals poor staff knowledge about infection control procedures. There is obviously an urgent need for both an infection control committee in the hospital and staff training on infection control procedures.
Keywords
Infection control
,
Microbiology
,
Lagos University Teaching Hospital
,
Staff trainning
,
Research Subject Categories::MEDICINE::Microbiology, immunology, infectious diseases
Citation
Ogunsola, F.T, Oduyebo, O.O, Iregbu, K.C. and Adetunji, A. (1999). Audit: An Essential Tool For An Effective Infection Control Program – The Lagos University Teaching Hospital Experience. Journal of the Nigerian Infection Control Association, 2: 27-30.