An appraisal of St. Francis of Assisi's canticle of brother Sun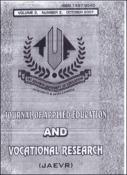 Publisher
Tai Solarin University of Education
Abstract
Lynn white Jr, in the historical roots of our ecologic crisis noted that since the root of our trouble are so largely religious, the remedy must also be essentially religious, whether we call it that or not. He therefore recommended what he described as the profoundly religious but heretical sense of the primitive Franciscans for the spiritual autonomy of all parts of nature.
Keywords
Ecologic crisis
,
St.Francis of Assisi canticle
,
Man and environment
,
Environmental theology debate
,
Research Subject Categories::HUMANITIES and RELIGION::Religion/Theology
Citation
Taiwo, B.S (2007). An appraisal of St. Francis of Assisi's canticle of brother Sun. Journal of applied education and vocational research, 2(3), 292-296.