Penicillin - resistant pneumococcus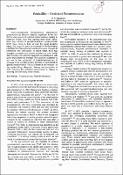 Abstract
Penicillin-resistant Streptococcus pneumoniee (pneumococcus) became clinically significant in the late 1970's when reports of resistant clinical isolates, leading to treatment failure, were first reported from South Africa. Since then reports of penicillin-resistant pneumococcus (PRP) have come in from all over the world including Africa. The drugs of choice for treatment of life-threatening infections like meningitis and septicaemia were changed to cefotaxime and ceftriaxone. In recent times, there has emerged pneumococcal strains resistant to most antiblotics including the extended spectrum cephalosporins with grave implications for therapy. The penicillin resistance is not due to the production of beta-laclamases but lo changes in the penicillin binding proteins, brought about by genetic transformation. This is a review of the literature on lhe 'epidemtoloqy.' diagnosis, therapy and prevention of PRP including the problems encountered in Nigeria in isolating and identifying these strains.
Keywords
Pneumococcus
,
Penicillin-Resistant
,
Treatment failure
Citation
Ogunsola FT. (1997). Penicillin- Resistant Pneumococcus. Nigerian Quarterly Journal of Hospital Medicine, 7 : 120-128.