Appraising the Organisation and Management of Distance Learners' Support Services: A Study of some Nigerian Universities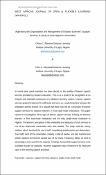 Publisher
RETRIDAL Natonal Open University of Nigeria
Abstract
In recent time, great emphasis has been placed on the quality of learner support services provided by distance educators. This is as a result of its recognition as an integral and essential component of a distance learning system. Learner support services guide the learners for self-study and serve as a useful interface between the institution and the learner. It is argued that there may not be a provision of learner support services for distance learners in most dual-mode institutions. This paper reports an investigation of the type of learner support services existing for distance learners' in five dual-mode institutions and the only single-mode institution in Nigeria. The learners' perception of the availability and adequacy of such services in one of the dual-mode universities were also studied. The study used the survey method, which involved the use of self- completing questionnaire and observation. Two staff, each of the universities, making a total of twelve, and two hundred and sixteen students formed the sample size of the study. Frequency tables, as well as percentages, were used for the analysis. Findings showed that support services were available though not adequate. Students suggested areas of interest to be improved upon in the learning support provision.
Keywords
Support services
,
Distance Learners
,
Single-mode
,
Dual-mode
,
Research Subject Categories::SOCIAL SCIENCES::Social sciences
Citation
Alaneme, G.C. and Olayiwola, P.O. (2013). Appraising the Organisation and Management of Distance Learners' Support Services: A Study of some Nigerian Universities.