Fiqh Al-Aqalliyyah Between Texts and Neo-Ijtihad in Modern Legal Studies: A Case Study of Igbo Muslim Minorities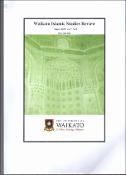 Publisher
Waikato Islamic Studies Review, University of Waikato Islamic Studies Group Studies in Religion Programme, School of Social Sciences Faculty of Arts & Social Sciences. University of Waikato University of Waikato, Hamilton, New Zealand
Abstract
This study researches into interplay of the Fiqh Al-Aqalliyyah legal theory with the Muslim minorities residing in a non-Muslim majority community, taking Igbo community as a case study. This paper examines the Fiqh Al-Aqalliyyah, its legal position in Islamic jurisprudence and its effectiveness in the security of the Muslim minorities' rights and privileges under the sovereignty of non-Muslim majority community. Research method used in this study is expository, descriptive, analytical and critical in order to showcase applicability within the selected context-specific and need-based neo-Ijtihād among the Igbo Muslim minorities in the modern legal theory. Conclusively, the paper makes findings that Islamic jurisprudence (Fiqh) as a legal theory is naturally dynamic to meet up to the occasional and circumstantial demand and need of time. Finally, the paper recommends that Islamic legal theorists ('Uṣuliyyūn) and jurists (Fuqahā') should create public awareness of Fiqh al-Aqalliyyah among the contemporary Muslims and that Islamic legal theorist and jurists should consider multiple contemporary jurisprudential issues.
Keywords
Fiqh Al-Aqalliyyah
,
Neo-Ijtihad
,
Igbo Muslim minorities
,
Modern legal studies
,
Research Subject Categories::HUMANITIES and RELIGION::Religion/Theology::Islamology
Citation
Adegoke, K. A (2021). "Fiqh Al-Aqalliyyah Between Texts and Neo-Ijtihad in Modern Legal Studies: A Case Study of Igbo Muslim Minorities". Waikato Islamic Studies Review, University of Waikato Islamic Studies Group Studies in Religion Programme, School of Social Sciences Faculty of Arts & Social Sciences, University of Waikato, Hamilton, New Zealand, 7 (1), 72-88.