ANTI-PROLIFERATIVE ACTIVITY OF AQUEOUS AND ETHANOLIC EXTRACTS OF BRYOPHYLLUM PINNATUM WHOLE PLANT ON SACCHAROMYCES CEREVISIAE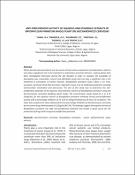 Publisher
Journal of Industrial Research and Technology
Abstract
Plants derived natural products are the source of most active components of medications, which in turn play a significant role in the treatment or prevention of human illnesses. Tropical plants have been investigated intensively during the last decades in order to evaluate the possibility of developing new, sustainable, natural and affordable drugs that can play a significant role in the treatment or prevention of human illnesses. Bryophyllum pinnatum (Lam.) Oken, is an erect, succulent, perennial shrub that has been reported to have a lot of medicinal properties including antimicrobial, antioxidant and anti-tumor. The aim of this study was to determine the anti¬ proliferative potential of the aqueous and ethanolic extracts of Bryophyllum pinnatum using the Saccharomyces cerevisiae (budding yeast) model. The concentration range tested (0, 2, 4, 6, 8, lOmg/ml), for the aqueous extract of Bryophyllum pinnatum exhibited strong anti-proliferative activity with a percentage inhibition of 73.12% at lOmg/ml following 24 hours of incubation. This value was compared to value obtained from the percentage inhibition of Saccharomyces cerevisiae by the control drug, Methotrexate at 125pg/ml(86.7%). Thefindings suggest that aqueous extract of Bryophyllum pinnatum has high anti-proliferative potential and maybe a good source for the production of drugs with strong anti-proliferative potential.
Keywords
Research Subject Categories::NATURAL SCIENCES::Chemistry::Biochemistry
,
Saccharomyces cerevisiae
,
Bryophyllum pinnatum
,
cancer
,
phytochemical
,
yeast
,
extracts
Citation
LAWAL, R.A, ONAWOLA, O.O., AGUNBIADE, O.T., ADEFISAN, I.O., BADMUS, I.A. and EBUEHI, O.A.T. ANTI-PROLIFERATIVE ACTIVITY OF AQUEOUS AND ETHANOLIC EXTRACTS OF BRYOPHYLLUM PINNATUM WHOLE PLANT ON SACCHAROMYCES CEREVISIAE. JIRT Vol. 5, No 2, 2016.
Collections