Principle of Asabiyyah and national restructuring with a special reference to Islamization and Fulanization syndromes in Nigeria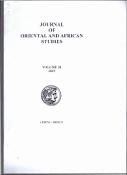 Publisher
Journal of oriental and African Studies
Abstract
Nigeria, as one of the pluralistic and multi-religious nations in black Africa with various ethnic and religious groups, has been witch-hunted with several ethnic and religious conflicts in her environs since her independence in 1960 as a result of principle of Al-'Aṣabiyyah heavily soaked in ethnic and religious sentiments which is profoundly represented by Islamization and Fulanization syndrome. The controversy surrounding the syndrome is so sensitive and volatile that it nearly tears the country apart. The paper examines the principle of Al-'Aṣabiyyah under the umbrella of Islamization and Fulanization syndrome and the factors responsible for it, salient issues are raised with Islamic interpretation from the views of Ibn Khaldun and Al-Banna in their principles of Al-'Aṣabiyyah and Qawmiyyah respectively. It is discovered that factors responsible for Al-'Aṣabiyyah revolve round the Islamization and Fulanization under the platform of religious intolerance and tribalism. The findings also show that Nigerians' division on ethnic and religious sentiments have caused the country a lot of havoc to the national integration and federal character. The study recommends religious tolerance and ethnic accommodation in order to enhance peaceful atmosphere, co-existence and national integration among the Nigerians.
Keywords
As-sabiyyah
,
National restructuring
,
Syndromes
,
Islamization
,
Fulanization
,
Federal character
,
Research Subject Categories::HUMANITIES and RELIGION::Religion/Theology::Islamology
Citation
Adegoke, K.A. (2017). Principle of Asabiyyah and national restructuring with a special reference to Islamization and Fulanization syndromes in Nigeria" in Photopoulos, A. T. (ed.), Journal of oriental and African Studies (JOAS), Athens-Greece, 28, 67-80.