Reproductive, Hematological and Biochemical profiles of male rats treated with aqueous extract of Spondias Mombin bark.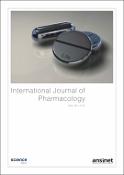 Publisher
International Journal of Pharmacology
Abstract
Aqueous extract of Spondias mombin in different dilutions was employed to assess its impact on male reproductive, haematologic and biochemical indices of male albino rats. A single daily intragastric administration of 8.4, 16.8 and 33.6 mg kg-1 b.w day-1 of the extract for four weeks did not cause any adverse effect on body and organ weights except the weight of the liver that showed a slight increase. There was a marked dose-dependent reduction (p<0.05) in epididymal sperm progressive motility, sperm count, viability (live/dead ratio) and a dose-dependent increase (p<0.05) in percentage abnormal spermatozoa. Abnormalities like double heads, double tails, detached heads and broken tails were frequently observed. Epididymal α-glucosidase activity was significantly reduced (p<0.05). However, prostatic acid phosphatase activity and citric acid levels and seminal fructose concentrations remained unchanged following Spondias mombin treatment. Blood analysis showed that red cell and white cell counts and haematocrit (Hct) levels were in the normal range. Bilirubin, serum glutamate pyruvate transaminase (SGPT), serum glutamate oxaloacetate transaminase (SGOT), urea and protein concentrations were slightly altered by the extract of Spondias mombin. Discontinuation of the extract resulted in full recovery within four weeks of treatment cessation. The results suggest that aqueous extract of the bark of Spondias mombin has reversible antifertility action, the testis and the epididymis probably being the prime sites of action.
Keywords
Spondias mombin
,
Antifertility
,
Antimicrobial
,
Aqueous extract
,
Male rat
,
Sperm
Collections