Learning Approaches and Strategies in Second Language Acquisition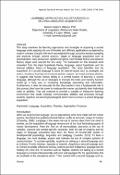 Publisher
Nigerian Journal of African Studies, Department of Igbo, African and Asian Studies, Nnamdi Azikiwe University, Awka, Nigeria
Abstract
This study examines the learning approaches and strategies of acquiring a second language while adopting the use of theories and different applications as depicted by modern scholars. Data for this work was obtained through purposive random sampling and analyzed through content analysis. Stages of language acquisition such as preproduction, early production, speech emergence, intermediate fluency and advance fluency stages were selected for this study. The framework for this research work emanated from the input hypothesis theory, language output hypothesis and the internal syllabus theory of language acquisition. This study identifies that the acquisition of a second language is based on several factors such as strategies and tactics, beneficial learning environment and the students' personal learning abilities. It suggests that human mental ability is a central feature of learning a second language, although the use of strategies to increase the brain and memory function would go a long way in increasing knowledge processing and information. Furthermore, it does not dissuade the fact that teachers have a fundamental role in this process, they have the power to motivate the learner and identify their individual traits or abilities. They are expected to provide a suitable or interactive learning environment that would increase communicative abilities and processes through students cognitive, social and physiological preferences to ensure a second language acquisition.
Keywords
Language
,
Theories
,
Acquisition
,
Processes
,
Research Subject Categories::HUMANITIES and RELIGION::Languages and linguistics
Citation
Olaniyi, B. A. (2020). Learning Approaches and Strategies in Second Language Acquisition. Nigerian Journal of African Studies, (NJAS), 2(1).
Collections