Evaluation of Neuroendocrine Dysfunction in the Acute, Subacute and Chronic Phases of Traumatic Brain Injury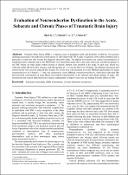 Publisher
Scientific & Academic Publishing
Abstract
Traumatic Brain Injury (TBI) is a leading cause of premature death and disability worldwide. The greatest challenge associated with endocrine complications in individuals with TBI is early recognition of the subtle problems and in particular at what time after trauma the diagnosis should be made. The plasma testosterone and cortisol concentrations of established mild, moderate and severe TBI Patient were determined especially at the acute, sub-acute, and chronic phases of the TBI. Ninety six male adults without history of chronic ailment were enrolled in the study. In each case, blood was collected within 24h in the first instance, and subsequently at 1st week and 6th week of trauma. The plasma testosterone and cortisol levels were assayed using ELISA. Eighty five of the men with moderate to severe TBI had significantly low mean testosterone level of 3.8nmol/L (1.10ng /ml), moderate to severe TBI had lowered cortisol levels, while those with mild TBI had increased concentration in acute phase, but normal concentrations in the subacute and chronic phases of study. The testosterone and cortisol deficiencies may require replacement to improve recovery and healing from the effects of TBI.
Keywords
Research Subject Categories::NATURAL SCIENCES::Chemistry::Biochemistry
,
Traumatic brain injury
,
Testosterone
,
TBI
,
Cortisol
,
Endocrine dysfunction
Citation
Ojieh G. C., Ebuehi O. A. T., Okhiai O. Evaluation of Neuroendocrine Dysfunction in the Acute, Subacute and Chronic Phases of Traumatic Brain Injury. American Journal of Medicine and Medical Sciences 2017, 7(4): 170-173 DOI: 10.5923/j.ajmms.20170704.02.
Collections