Modulatory effect of fibre-enriched cake on alloxan-induced diabetic toxicity in rat brain tissues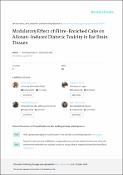 Abstract
tDiabetes is a metabolic disorder characterized by hyperglycaemia and it is fast becoming ascourge in sub-Saharan Africa. The nutritional properties of developed fibre-enriched cakeand its protective potential against diabetic induced neurotoxicity in rats were investigated.Fibre-enriched cake was developed from selected fruits and analysed for its nutritional andsensory attributes. Rats were induced with diabetes by a single intraperitoneal injectionof alloxan and treated with the formulated cake. After 14 days treatment, the rats weresacrificed by cervical dislocation. Their brain tissues were accessed for reduced glutathione(GSH), catalase, superoxide dismutase (SOD) activities, protein content and lipid peroxida-tion as well as lipid profiles which cover for total cholesterol, triglycerides, HDL and LDL.Induction of diabetes led to significant reduction (p < 0.05) of GSH, catalase, SOD activi-ties and protein content. Feeding on the formulated cake led to their significant increase.Decreased lipid peroxidation, total cholesterol, LDL and triglycerides, and increased con-centration of HDL were also observed on feeding with the cake. These results indicate anantioxidant protective potential of the fibre-enriched cake against diabetic-induced braintoxicity. Thus, it can serve as an adjunct to dietary therapy for diabetes.
Keywords
Research Subject Categories::NATURAL SCIENCES::Chemistry::Biochemistry
,
Antioxidant
,
Diabetes
,
Food fibre
,
Oxidative stress
Citation
Erukainure, Ochuko & Ebuehi, Osaretin & Adeboyejo, Folasade & Muhammad, Aliyu & Elemo, Gloria. (2014). Modulatory Effect of Fibre-Enriched Cake on Alloxan-Induced Diabetic Toxicity in Rat Brain Tissues. Toxicology Reports. 1. 10.1016/j.toxrep.2014.07.010.
Collections