Management of community acquired pneumonia (CAP) in children: Clinical practice guidelines by the Paediatrics Association of Nigeria (PAN)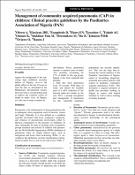 Publisher
Paediatric Association of Nigeria
Abstract
Against the background of the subsisting high childhood mortality indices in Nigeria, vis-a-vis the global efforts in the last 10 years to stem the tide (as articulated in the Millennium Development Goals), there has been a corresponding need to address the common causes of deaths in under- fives. In Nigeria, as is the case in many countries in sub-Saharan Africa, pneumonia remains a common cause of under -five mortality, accounting for 17% of deaths in this age-group. Indeed, it has been estimated that globally, a child dies from pneumonia every 20 seconds. With these in mind, and indeed the laudable goal of a 66% reduction of the national under-five deaths by the year 2015, a prompt recognition and management of pneumonia (in this vulnerable paediatric population) has become imperative. This was the logic that informed the current initiative of the Paediatric Association of Nigeria, aimed at formulating diagnostic, treatment and control policies with respect to paediatric community acquired pneumonia (CAP). This document is targeted primarily at health care providers working in Nigeria in centres with limited facilities as well as those working in tertiary hospitals.
Keywords
Community acquired pneumonia
,
clinical protocol
,
Paediatric Association of Nigeria
,
Management
,
Research Subject Categories::MEDICINE
Citation
Olowu A, Elusiyan JBE, Esangbedo D, Ekure EN, Esezobor C, Falade AG Osinusi K, Mukhtar-Yola M, Meremikwu M, Ibe B, Johnson WBR Oviawe O, Bastos I. Management of community acquired pneumonia (CAP) in children: Clinical practice guidelines by the Paediatrics Association of Nigeria (PAN). Niger J Paed 2015; 42 (4): 283-292.
Collections