Sero-prevalence of Rubella IgG/IgM and Cytomegalovirus IgM among Blood Donors in Lagos State, South-Western Nigeria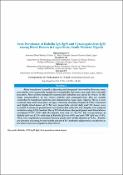 Publisher
Nigerian Hospital Practice
Abstract
Blood transfusion is usually a lifesaving and therapeutic intervention.However, many preventable errors (especially transfusion transmissible infections) may make this a harmful procedure. Most of these transfusion transmissible infections are caused by viruses. In this study, sero-prevalence of two viruses (rubella and cytomegalovirus) that are usually overlooked in transfusion medicine were determined in Lagos state, Nigeria. This is a cross sectional study which took place at Lagos University Teaching Hospital (LUTH). Consented and eligible blood donors at LUTH were purportedly selected daily until 181 donors were recruited. A structured questionnaire was used as data collection tool. Samples were analyzed in batches using ELISA method. Out of 181 blood donors that participated, male blood donors constituted 87.8% (159) while the females were only 22 (12.2%). The sero-prevalence of Rubella IgG was 87.8% while that of Rubella IgM was 0.0% and anti-CMV IgM was 11.0%. There was a significant association between gender and rubella infection (p=0.03). Routine pre-donation screening for anti-rubella and anti-CMV antibodies might not be cost effective as few donors were sero-negative to these viruses.
Keywords
Rubella
,
CMV
,
IgM
,
IgG
,
Sero-prevalence
,
Blood donors
,
Research Subject Categories::MEDICINE
Citation
Okekeodogwu, C.C., Osunkalu, V.O., Ogbenna, A.A. and Egwuatu, F.T. (2021). Sero-prevalence of Rubella IgG/IgM and Cytomegalovirus IgM among Blood Donors in Lagos State, South-Western NigeriaNigerian Hospital Practice, 27(3-4), 42-46.