Audit of availability and distribution of paediatric cardiology services and facilities in Nigeria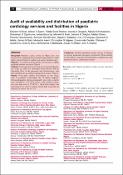 Publisher
Clinics Cardive Publishing Ltd.
Abstract
BACKGROUND: Paediatric cardiac services in Nigeria have been perceived to be inadequate but no formal documentation of availability and distribution of facilities and services has been done. OBJECTIVE: To evaluate and document the currently available paediatric cardiac services in Nigeria. METHODS: In this questionnaire-based, cross-sectional descriptive study, an audit was undertaken from January 2010 to December 2014, of the personnel and infrastructure, with their distributions according to geopolitical zones of Nigeria. RESULTS: Forty-eight centres participated in the study, with 33 paediatric cardiologists and 31 cardiac surgeons. Echocardiography, electrocardiography and pulse oximetry were available in 45 (93.8%) centres while paediatric intensive care units were in 23 (47.9%). Open-heart surgery was performed in six (12.5%) centres. South-West zone had the majority of centres (20; 41.7%). CONCLUSIONS: Available paediatric cardiac services in Nigeria are grossly inadequate and poorly distributed. Efforts should be intensified to upgrade existing facilities, establish new and functional centres, and train personnel.
Keywords
Audit
,
Nigeria
,
paediatric cardiac services
,
open-heart surgery
,
Research Subject Categories::MEDICINE
Citation
Ekure EN, Sadoh WE, Bode-Thomas F, Orogade AA, Animasahun AB, Ogunkunle OO, Babaniyi I, Anah MU, Otaigbe BE, Olowu A, Okpokowuruk F, Omokhodion SI, Maduka OC, Onakpoya UU, Adiele DK, Sani UM, Asani M, Yilgwan CS, Daniels Q, Uzodimma CC, Duru CO, Abdulkadir MB, Afolabi JK, Okeniyi JA. Audit of availability and distribution of paediatric cardiology services and facilities in Nigeria. Cardiovasc J Afr. 2017 Jan/Feb 23;28(1):54-59.
Collections