Emergence of beta-lactamases OXA-10, VEB-1 and CMY in Providencia spp. from Nigeria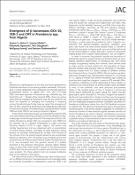 Abstract
Resistance to cephalosporins of the third and fourth generations inEnterobacteriaceae is an increasing problem worldwide. This resist-ance is mainly attributed to the production of extended-spectrumb-lactamases (ESBLs). In Nigeria SHV-, TEM- and CTX-M-typeESBLs have been reported inEnterobacterspp.,Klebsiellaspp. andEscherichia coli.1–3Besides these classical ESBLs, there are variousother plasmid-mediatedb-lactamases that are less common butwhich are regarded as emerging and increasing in frequencyamong theb-lactamase family. Here we report the emergence ofOXA-10, VEB-1 and CMYb-lactamases and mobile genetic elementsin three clinical isolates ofProvidenciaspp. isolated between October2008 and April 2009 in two tertiary hospitals in Nigeria.
Keywords
Antimicrobial resistance
,
Molecular epidemiology
,
Esbls
,
Ampc
,
Research Subject Categories::MEDICINE::Microbiology, immunology, infectious diseases
Citation
Aibinu, I.E, Pffeifer, Y., Ogunsola, F., Odugbemi, T., Koenig W., and Ghebremedhin, B., (2011). Emergence of beta-lactamases OXA-10, VEB-1 and CMY in Providentia species from Nigeria. Journal of Antimicrobial Chemotherapy, 66 (8): 1931-1932.