Prospect and problem of Islamic teacher education in Nigeria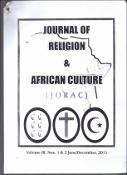 Publisher
Journal of Religion and African Culture (JORAC), department of Philosophy and Religious Studies, Adekunle ajasin University, Akungba-Akoko, Ondo State, Nigeria
Abstract
The paper discusses the prospect of Islamic Teacher Education in the Northern and Southern Nigeria. It then examines the problems facing the successful running of the subjects in Nigerian schools so as to see what element of threat that those problems have caused this programme. The paper finally offered some suggestions as way forward out of these cheins of problem for the determination of the importance and the need for the enlistment and enhancement of Islamic Teacher Education in the country.
Keywords
Islamic teacher education
,
Northern and southern Nigeria
,
Schools
,
Nigeria
,
Research Subject Categories::HUMANITIES and RELIGION::Religion/Theology::Islamology
Citation
Adegoke, K. A. (2011). Prospect and problem of Islamic teacher education in Nigeria. Journal of Religion and African Culture (JORAC), department of Philosophy and Religious Studies, Adekunle ajasin University, Akungba-Akoko, Ondo State, Nigeria, 11(1&2), 73-84.