Ihun Ati Itumo Oruka Aseda Yoruba Nipa Afomo Ibeere.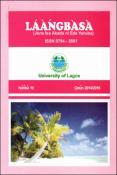 Abstract
Iseda oruko ni awujo Yoruba pin si orisirisi ona. Lara won ni ilo afomo ibere, isogbolohun di oruko, alopo oro-oruko meji ati bee bee Io. Orisii afomo mejl lo wa ninu ede Yoruba; afomo ibere ati afomo asopo. Ninu awon mejeeji yi, aforno ibere nikan ni a mo ti o le kepa ninu iseda oruko. Marun-un ni awon afomo lbere ti a samulo ninu pepa yil. Itumo awon afomo yii le, yala je "omo tl o...tabi "omo ti a ...". Awon afomo ibere kan ni itumo mejeeji yii,bee awon kan ko ni ju itumo kan Io.Ni ti ihun, a ri pe ihun awon oruko ti a seda pelu afomo ibere yato si awon ti a seda nipase llana miiran. A tubo safihan iyato laarin ihun awon oruko bayi nipa ilo Aba ipile labe Tiori Onipele Aba ipile fun Apola safihan ti a o lo ni pato ni eyl to wa ni ibamu peIu alaye Aboh (1999) lori tiori aMulo naa. Ohun to gun wa ni kese lati dawo le ise yii ni:(1) Lati fi iyato han laarin ihun awon oruko ti a seda nipa afomo lbere ati awon tl a seda nipase ona miiran nipa IBo Aba ipile fun Apola Asafihan (DP Hypothesis). (2) Lati satunyewo ltumo ti awon afomo lbere maa n ni ninu iseda oruko.
Citation
Eleshin,B. (Ihun Ati Itumo Oruka Aseda Yoruba Nipa Afomo Ibeere.LANGBASA (Jona Ise Akada Ni Ede Yoruba). Department of Linguistics, African and Asian Studies, University of Lagos, (19), p. 21 - 36.
Collections