Turner syndrome in diverse populations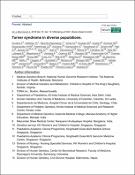 Abstract
Turner syndrome (TS) is a common multiple congenital anomaly syndrome resulting from complete or partial absence of the second X chromosome. In this study, we explore the phenotype of TS in diverse populations using clinical examination and facial analysis technology. Clinical data from 78 individuals and images from 108 individuals with TS from 19 different countries were analyzed. Individuals were grouped into categories of African descent (African), Asian, Latin American, Caucasian (European descent), and Middle Eastern. The most common phenotype features across all population groups were short stature (86%), cubitus valgus (76%), and low posterior hairline 70%. Two facial analysis technology experiments were conducted: TS versus general population and TS versus Noonan syndrome. Across all ethnicities, facial analysis was accurate in diagnosing TS from frontal facial images as measured by the area under the curve (AUC). An AUC of 0.903 (p < .001) was found for TS versus general population controls and 0.925 (p < .001) for TS versus individuals with Noonan syndrome. In summary, we present consistent clinical findings from global populations with TS and additionally demonstrate that facial analysis technology can accurately distinguish TS from the general population and Noonan syndrome.
Keywords
diverse populations
,
facial analysis technology
,
health disparities
,
Turner syndrome
,
Research Subject Categories::MEDICINE
Citation
Kruszka P, Addissie YA, Tekendo-Ngongang C, Jones KL, Savage SK, Gupta N, Sirisena ND, Dissanayake VHW, Paththinige CS, Aravena T, Nampoothiri S, Yesodharan D, Girisha KM, Patil SJ, Jamuar SS, Goh JC, Utari A, Sihombing N, Mishra R, Chitrakar NS, Iriele BC, Lulseged E, Megarbane A, Uwineza A, Oyenusi EE, Olopade OB, Fasanmade OA, Duenas-Roque MM, Thong MK, Tung JYL, Mok GTK,Fleischer N, Rwegerera GM, de Herreros MB, Watts J, Fieggen K, Huckstadt V,Moresco A, Obregon MG, Hussen DF, Ashaat NA, Ashaat EA, Chung BHY, Badoe E,Faradz SMH, El Ruby MO, Shotelersuk V, Wonkam A, Ekure EN, Phadke SR, Richieri-Costa A, Muenke M. Turner syndrome in diverse populations. Am J Med Genet A. 2019 Dec 19. doi: 10.1002/ajmg.a.61461. [Epub ahead of print] PubMed PMID: 31854143.
Collections