Low Participation of Women in Islamic Islamic Education in Nigeria: Challenges and Solutions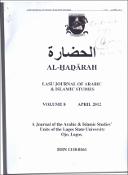 Publisher
Al-Hadarah: LASU Journal of Arabic and Islamic Studies, Lagos State University, Ojo, Lagos, Nigeria
Abstract
The emergence of Islamic education could be traced back to the time of Prophet Muhammad (S.A.W) in the seventh century of Christian era in cities of Makkah and Madinah. The companions of the Prophet (S.A.W) irrespective of their gender started acquiring the knowledge of Islamic education in line with what Prophet (S.A.W) enjoined them. "Acquisition of Knowledge is obligatory on every male and female Mus1im" This paper therefore concerns itself with factors responsible for the low participation of Muslim women in the Islamic Education in the Nigerian academic settings. This is with a view at arousing our interests for a change in our orientations toward the need and necessity at having the Muslim women participation in Islamic Education for the development of Islam and our society at large.
Keywords
Low Participation
,
Women
,
Islamic education
,
Challenges
,
Solutions
,
Research Subject Categories::HUMANITIES and RELIGION::Religion/Theology::Islamology
Citation
Adegoke, K. A. (2011). Low Participation of Women in Islamic Islamic Education" in Muhibbu-Din, M. A. (ed.) Al-Hadarah LASU Journal of Arabic and Islamic Studies, Lagos State University, Ojo, Lagos, Nigeria, Vol.8, 1-10.