Antimicrobial activities of garcinia kola on oral fusobacterium nucleatum and biofilm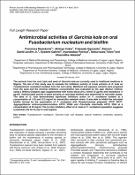 Abstract
The extracts from the root, bark and seed of Garcinia kola are currently used in traditional medicine in Nigeria. The aim of this study was to evaluate the inhibitory activity of crude extracts of G. kola on Fusobacterium nucleatum isolated from the oral cavity. Methanol and aqueous extracts were prepared from the seed and the minimal inhibitory concentration was evaluated by the agar dilution method, using a Wilkins-Chalgren agar supplemented with horse blood (5%), hemin (5 µg/ml) and menadione (1 µg/ml). Antimicrobial activity of plant extracts on microbial biofilms was determined in microtiter plates. The seed of G. kola demonstrated significant inhibitory action on F. nucleatum isolates at a concentration of 1.25 and 12.5 mg/ml for amoxicillin resistant strain. It was able to inhibit the microbial biofilm formed by the association of F. nucleatum with Porphyromonas gingivalis ATCC 33277, Aggregatibacter actinomycetemcomitans ATCC 33384 and Prevotella intermedia ATCC 2564 at a concentration of 25 mg/ml. The in-vitro inhibitory effect of G. kola on F. nucleatum population suggests a potential role for its use in oral hygiene.
Keywords
Fusobacterium nucleatum
,
Garcinia kola
,
Oral disease
,
Natural medicine
,
Anaerobic bacteria
,
Biofilm
Citation
Nwaokorie, F., Coker, A., Ogunsola, F., Gaetti-Jardim Jr, E., Oyedele , G., Ayanbadejo, P., Abdurrazaq, T. and Umezudike, A. (2010). Antimicrobial activities of Garcinia kola on oral Fusobacterium nucleatum and biofilm. African Journal of Microbiology Research '4: 509-514.