An appraisal of faith-based literacy programmes on the socio-economic life of adult learners in Lagos, Nigeria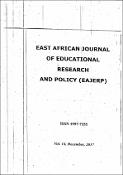 Publisher
A publication of Higher Education Research and Policy Network (HERPNET)
Abstract
The study was carried out to appraise the literacy programmes provided by faith-based organisations (FBOs) in Mainland Local Government Area (LGA) of Lagos State, Nigeria to ascertain their effects on the socio economic life of the learners.
Keywords
Faith-based organisations
,
Literacy centres
,
Empowerment
,
Lagos Metropolis
,
Research Subject Categories::HUMANITIES and RELIGION::Religion/Theology
Citation
Falako, F. O. & Anyikwa, B. (2017). "An Appraisal of Faith Based Literacy Programmes on the Socio-Economic Life of Adult Learners in Lagos, Nigeria." EAJERP: East African Journal of Educational Research and Policy. A publication of Higher Education Research and Policy Network (HERPNET), Kampala International University, Uganda. Vol. 14. Pp. 103-116.