A comparative study of serum ferritin levels among unfit and fit blood donors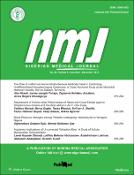 Abstract
Background: Cheap methodologies are being utilized by low‑resource countries to determine blood donors' fitness. Important hematological biomarkers might have to be evaluated to enhance the use of these methods. Aims: The study evaluated the pattern of serum ferritin in 18–24 fit and unfit prospective blood donors (PDBs) and the prevalence of iron store deficiency. Settings and Design: This study was a cross‑sectional, study which was conducted at the blood donor clinic of the Lagos University Teaching Hospital. Materials and Methods: Blood samples were collected by venipuncture into sodium‑ethylenediaminetetraacetic acid and plain bottles. The latter was centrifuged and used for ferritin determination via human ferritin enzyme‑linked immunosorbent assay test kit, while the former was used for red cell indices analysis using an autoanalyzer. Statistical Analysis: Data were analyzed using SPSS version 20, values were presented as mean ± standard deviation, and P ≤ 0.05 was considered statistically significant. Results: A total of 263 PDB were recruited into the study consisting of 210 (79%) males and 53 (21%) females, with a mean age of 32.88 ± 8.22. Only 110 (41.8%) of the participants were considered fit, while 153 (58.2%) were unfit using copper sulfate specific gravity. There was no statistically significant difference (P = 0.301) in the mean level of serum ferritin in unfit blood donors (74.5 ± 90.8 µg/L) compared to that of the fit blood donors (61.5 ± 54.5 µg/L). The prevalence of iron store depletion among blood donors in Lagos state was 11.8% (31 of 263) with a higher proportion (7.6%) occurring among unfit donors. However, low levels of serum ferritin (<15 µg/L) were significantly associated with the occurrence of anemia (hemoglobin < 12.5 g/gl) among unit donors (19%; P = 0.05). Conclusion: Although serum ferritin depletion appears to be higher in the unfit blood donors, the use of serum ferritin as an index for the screening and determination of PDBs' fitness requires further evaluation.
Keywords
Blood donors
,
Copper Sulphate
,
Specfic gravity method
,
Hemoglobin
,
Serum ferritin
,
Research Subject Categories::MEDICINE
Citation
Olowoselu OF, Uche E, Oyedeji O, Otokiti OE, Ayanshina OA, Akinbami A, et al. A comparative study of serum ferritin levels among unfit and fit blood donors. Niger Med J 2019;60:312-6.