Pattern of von Willebrand factor in hypertensive patients in Lagos, Nigeria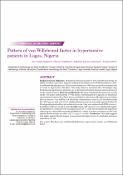 Publisher
Journal of clinical sciences
Abstract
Background and Objective: Hypertension alone accounts for 50% of death from stroke. Its ability to induce endothelial dysfunction leads to the release of von Willebrand factor(vWF), a prothrombotic glycoprotein. The increase secretion of vWF may account for increased risk of stroke in hypertensive disorders. This study aimed to determine the vWF:antigen (Ag) levels among hypertensives and assess its relationship with blood pressure and occurrence ofstroke in hypertensives. Subjects and Methods: The study included 66 hypertensives, 33 with stroke (HS) and 33 without stroke (HWS), and 33 controls matched for age and sex. Structured questionnaires were used to obtain biodata and clinical information. Blood pressure was taken after 15 min rest. Four milliliters of blood was collected into 0.1 ml of 3.2% trisodium citrate for vWF:Ag assay and 4 ml into K‐ethylenediaminetetraacetic acid anticoagulant bottles for blood grouping and erythrocyte sedimentation rate. Data were analyzed with SPSS version 21. Confidence interval was set at 95%. Results: Mean vWF:Ag levels were significantly higher in hypertensives compared with nonhypertensives (P = 0.005), but no statistically significant difference was observed between HS and HWS (P = 0.874). A positive correlation of vWF with systolic blood pressure was observed (r = 0.335, P = 0.001). Conclusion: Our study suggests that higher systolic blood pressure is associated with higher levels of endothelial activation and release of vWF.
Keywords
Blood pressure
,
endothelial dysfunction
,
Hypertension
,
Stroke
,
von Willebrand factor
,
Research Subject Categories::MEDICINE
Citation
Ogbenna, A.A., Okpalanze, C., Adewoyin, A.S. and Enifeni, E. (2018). Pattern of von Willebrand factor in hypersensitive patients in Lagos, Nigeria. J Clin Sci., 15, 22-26.